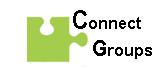 CONNECT GROUPS ARE HAPPENING NOW - SIGN UP TODAY!!!
Our fall session of Connect Groups has begun but there's still time to jump in and reap the benefits!. We have groups that meet on Sun., Wed., Thurs. & Fri.. The groups will meet for 7 weeks and there is a variety of curriculum that you can choose from. Please pick the group that's best for you from the list below and sign up for a group today or on Sunday! Don't miss this opportunity to connect with others who attend SouthGate and grow in Christ at the same time!!!
Here's a list of this session's groups along with the curriculum each group will be using:
Wed. 6:30-8:30 p.m. Quillin/Huss @ Quillin
Study: "Tell Someone"/Greg Laurie: View trailer
This study helps group members identify people and places already in their daily routines, encouraging and empowering them to share the good news of Jesus Christ. Evangelism shouldn't be an artificial religious sales pitch. We shouldn't be afraid of burning bridges with people we know and love. Instead, we should build bridges with our stories to connect people to the heart of the Savior.
This refreshing look at evangelism from one of the nation's most prominent pastors and evangelists, Greg Laurie, will help Christians—new and old alike—discover the joy of evangelism as the good news of Jesus naturally overflows into their daily lives.
Study guide is $10.
Thurs. 6:30-8:30 p.m. Waehner/Shuttleworth @ Waehners (Adult)
Study: Tell Someone/Greg Laurie View trailer
See Wed. group for description. Study guide is $10.
Fri. 6:30-8:30 p.m. Pinkowski/Kunkel @ Jackie Kunkel's (Adult)
Study: Tell Someone/Greg Laurie View trailer
See Wed. group for description. Study guide is $10.
Sunday 3:00-5:00 p.m. Troth/Wilkirson @ Troths (Adult)
Study: The Book of James/Francis Chan View trailer
"Francis Chan unpacks the dense truth of the Book of James against the backdrop of the iconic city of San Francisco where he lives and ministers. You will be challenged to move beyond a private, intellectual knowledge of God and His word to a vibrant faith that impacts every square inch of life."
Sunday 3:00-5:00 p.m. Josh Newman @ Josh's (Adult)
Study: "Fully Alive"/Ken Davis View trailer
For most people, true and lasting happiness is an elusive pursuit. Best selling author Ken Davis invite you to join him on a journey along a road of heartache and adventure to a place he calls "The Land of the Living" and discover what may be missing in our lives.
Study guide costs $5.
Sunday 3:00-5:00 p.m. Cowles/Flaming-Buschman @ Cowles (Child-Friendly)
Study: "The Heart of Family - 6 Weeks To a Happier Home & Healthier Family"/Kirk & Chelsea Cameron View trailer Interactive course designed to share the biblically based, faith filled lessons that the Camerons have learned through 25 years of marriage. Cost is $20. per couple which includes the study guide.
Sunday 4:00-6:00 p.m. Cunningham/Sheehans @ Baileys (Child-Friendly)
Study: "Body, Soul & Spirit"/ Andrew Womack
If you look the same, and in many instances, act the same as you always did, what actually changes when you are born again? Understanding this is foundational to your being able to eliminate many of the faith-destroying doubts that can haunt us as believers. If you have trouble receiving from God, this study is for you
To register for a group or to contact a leader click here or you can sign up at church on Sunday.
Please plan on attending a Connect Group this fall!!!