Sermon Notes
Just Follow along with This week's message and add your own personal notes as you go. Then email those notes to yourself and save them in a folder to view later!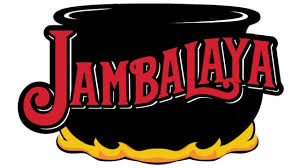 Sunday, September 23, 2018 "How to Experience the Jambalaya Life"
Proverbs 4:10,13​ TLB "My son, listen to me and do as I say, and you will have a long, good life. Carry out my instructions; don't forget them, for they will lead you to real living."
John 10:10​ TLB "The thief's purpose is to steal, kill and destroy. My purpose is to give life in all its fullness."
Ingredients for a Jambalaya Life
Main ingredients;
1. ​Love God (The Father, Son and Holy Spirit) and Love His Word.
Matthew 22:37​ NIV Jesus replied: "'Love the Lord your God with all your heart and with all your soul and with all your mind.'
Col 1:16​ Msg "For everything, absolutely everything, above and below, visible and invisible,........ everything got started in him and finds its purpose in him."
Life is NOT about YOU.
When life is all about us we will never experience a full, abundant life
Matthew 4:4 ​NIV "Jesus said, 'Man cannot live [experience the good life] by [natural] bread alone. But on every word that comes from the mouth of God.'"
2. Learn to love and forgive Others
Life is all about love.
Galatians 5:14​ TLB "The whole Law can be summed up in this one command: "Love others as you love yourself."
You have to intentionally chosen to Love and Forgive Others and Yourself.
Learning to Love and forgive others starts with your choice.
2 John 1:6​ NCV "And love means living the way God commanded us to live. As you have heard from the beginning, his command is this: Live a life of love."
I Cor 13:3b​ Msg "So, no matter what I say, what I believe, and what I do, I'm bankrupt without love."
Offense and unforgiveness kill your faith.
Mark 11:25​ KJV "And when ye stand praying, forgive, if ye have ought against any: that your Father also which is in heaven may forgive you your trespasses."