SouthGates' Online Weekly Bulletin
See our complete church calendar at bottom of this page
SUNDAY'S MESSAGE
"Guarding The Gates" Part 5
Pastor Andrew continues his current and timely sermon series about guarding the gates to your heart and your life this Sunday.
Hope you can join us!
IF YOU CAN'T BE HERE... JOIN US ONLINE THIS SUNDAY MORNING @ 10:30!
Lady's Intercessory Prayer Night
Southgate's Women's Ministry is sponsoring a time of worship & intercessory prayer on Thursday nights from 6-7 p.m. in the church sanctuary. Ladies, please join us as we seek the Lord on behalf of our church, our families and whatever other needs the Holy Spirit prompts us to pray for.
Aspire Women's Conference 2020
SouthGate ladies, don't miss out on this year's Aspire Women's Conference on Friday Nov. 13th from 7-10 p.m.! This years speaker will be Debbie Alsdorf. Mia Koehne will be leading worship and Anita Renfroe will be providing some comic relief.
Should be a great night of fun, fellowship and growing together in Christ and after the year we've just been through (it's not over yet), we could all use a wheel alignment about right now. The cost is $20.00.
If you'd like to sign up you can use the button below.
Rio Vista Thanksgiving Outreach
We've been given a great opportunity to reach out to the South Phoenix area this Thanksgiving. We need 20-50 volunteers to help bag & distribute food to needy people within our own community on Sat., Nov 21st. If we reply soon enough (as in - use the button below to sign up today) our church can take responsibility for the entire 8:30-10:30 shift. This is a great chance to show the love of Jesus in a very tangible way to those who are less fortunate in our own back yard.
On a related note, beginning Sunday October 25th we will be collecting food items to help stock Rio Vista's pantry for this big event. We will have some big plastic barrels in the church lobby that you can put your donations in. We'll be sending out an email this week with a list of needed food items.
Then on Sunday November 15th we will be collecting frozen turkeys in the parking lot prior to both services to distribute at the outreach.
So - as you can see - there are a lot of ways that you can get involved in this important ministry event. We're hoping everyone at Southgate will do something to make this years outreach a big success - LET'S DO THIS SOUTHGATE!!!
WHAT DO YOU WANT FOR ARIZONA'S FUTURE?
More kids using high-potency marijuana?
More infants born with THC in their systems?
More impaired drivers on the road?
Weakened marijuana DUI laws?
A monopoly that rewards marijuana-insiders?
"Protected" laws AZ lawmakers can't fix or update?
IF YOU ANSWER NO TO ANY OF THESE,
YOU MUST VOTE NO ON 207
For more information please use the button below
And please be sure to vote this election - the stakes couldn't be higher. The only thing it takes for evil to triumph is for good people to do nothing!
Our Hospitality Ministry will be starting up again this Sunday. That means they'll be serving up fresh, hot coffee prior to both services! (Can you say, "Thank you Jesus!!!")
If you'd like to help out with this CRUCIAL (what could be more important???) ministry, please talk to Etha Barber or Mario Zeoli.
News & Upcoming Activities
We are scheduling for our next quarter and we have a few ministry opportunities for those of you who are looking for a place to serve.
We need:
*Someone to teach our 3-5 Pre-K class one time a month.
*A helper for our 3-5 Pre-K class one time a month (anyone 6th grade and older can apply).
(If your interested in serving in either one of these positions please contact Tina Showalter at tshowalter@southgateaz.com)
*An usher for 2nd service/3rd Sunday of each month.
(If you're interested in this position please contact Mario Zeoli at 623-225-8316 (call or text).
A Word Of Caution
We are super happy to be back worshipping together. However, this comes with a certain amount of responsibility towards others.
There are some amongst us who are more susceptible to contracting the Covid19 Virus than others. Because of this we ask you to please use caution when greeting or interacting with others. For the time being it might be best to "ask before you hug" as a courtesy to others and their comfort. Remember... It's all about considering others before ourselves.
Thanks for your consideration on this matter!
OPEN YOUR FREE ACCOUNT TODAY!!!
During this challenging time it's more important than ever that we stay connected to God and provide Him with as many opportunities as possible to work in our lives and our families' lives as possible.
We are excited to make available to you at no cost the rightnow media library of over 10,000 Bible studies & videos for everyone—kids, youth, parents, married couples, college students, single adults, working professionals—all aimed at helping you grow in Christ. You can easily access these materials on your laptop, tablet or smart phone. We believe that RightNow Media will be a tool to serve you as you grow in Christ and live out your faith at home, at work and in your neighborhood.
To get started, take a moment to view the video below and then click the button to create your personal rightnow media account
SGLIFE KIOSKS
Get information, fill out guest/contact/prayer request cards, give online and sign up for church groups and events all through the convenience and ease of our brand new SG Life Kiosks. Take a minute and check them out in the sanctuary lobby this Sunday!
SG Daily Dose
Don't forget to check out our daily Facebook video posts by our Pastors and church leaders called the SG Daily Dose. These are short videos posted weekdays on SouthGates' Facebook page (https://www.facebook.com/SouthGateAZChurch/) to encourage and point you towards Biblical truth in all the craziness of the world we live in. We hope you'll tune in and fill up on some godly wisdom designed to help you get through your busy days. While your at it, invite some of your friends and family to tune in too!
SGLife Mobile App
You can turn our church website into an easy to use app on your mobile phone or device by adding it to your homescreen! Stay connected and informed on church events and take notes during Pastor's sermons on Sundays. It's also the easiest way to sign up and pay for upcoming activities, events and groups.
For more info and instructions click the button below.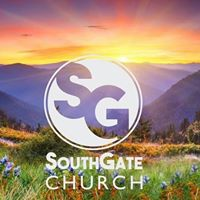 Hey SouthGate Family - We need your help!
We have implemented Outreach Social, which automatically posts beautiful, inspirational graphics on our Facebook page every day (https://www.facebook.com/ SouthGateAZChurch/).
Some are Bible verses, inspirational sayings and quotes, as well as conversation starters. All we need you to do is like, comment and share them with your friends. That's it - easy peasy!
Keep in mind that "Sharing" is the outreach mechanism for our Facebook page - when you share something from our page it goes out to all of your Facebook friends and points those people to our page - and in essence to our church. When you like our page it's basically like telling people already on our page that you like a post. Both are important to the way Facebooks' algorithm rates our page but sharing is the tool that exposes outside people to our church which is the ultimate goal.
So... here are your next steps:
Follow us on Facebook (https://www.facebook.com/ SouthGateAZChurch/)
Like and comment on our daily graphics to build our engagement.
When you see posts you like, share them with your friends.
Oh, and one more thing, if you take pictures at church events, please post them on the church's Facebook page. This will help show people how great our church family is!
Thanks for your help!!!
SouthGate Calendar of Events
SEE YOU THIS SUNDAY AT SOUTHGATE!!!